The Cereal Killerz Kitchen
The Cereal Killerz Kitchen is a restaurant in Las Vegas, NV, that specializes in serving up variations on the most important meal of the day. No... this isn't Denny's. This is Las Vegas' first and only cereal bar.
A customer to the Cereal Killerz Kitchen can choose from over 140 different cereals, fifty different toppings, get waffles, iced coffees, and milkshakes to name a few things that they serve. Their goal is to "take over the cereal world, one bowl at a time."
The entrepreneurs, a husband and wife team, demonstrate their milkshakes -- first their signature shake made up with hazelnut, chocolate, and caramel, and a peanut butter lover's dream from chocolate and peanut butter. When asked the entrepreneurs responded that their calorie counts range from 500 to 5,000 per serving, so... definitely a guilty pleasure, a cheat day, or just comfort food. (Like The Fat Shack...?)
The Cereal Killerz Kitchen already has one location open and they are opening a second. Additionally, they are in negotiations to open the next three. However, their first location was hit hard by the COVID-19 pandemic as it was located in a mall and they predict that it probably won't survive. As such, they are planning to open a new location across the street from the mall. Each location costs about $25,000 to open including equipment and remodeling expenses.
The entrepreneurs have a personal nest egg of between $40,000 and $50,000 with which they plan to fund their expansion. But they also seem like good people. They have a daughter with "mild" Down's Syndrome that they want to encourage by going into business for themselves. The husband was born in Las Vegas but spent some time in Richmond, CA, which is no one's idea of a good time. The wife was formerly in insurance but hated it and never put much effort in and was actually fired just two weeks before she and her husband got married.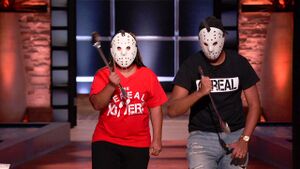 Both Daymond and Lori respect that the entrepreneur owned the reason she was fired (as does your Stats Shark).
Kevin brings up an obvious problem with Cereal Killerz in that nothing they do is proprietary. When he asks whether the business is profitable, Robert jumps to the entrepreneurs' defense stating that nothing is open because of the pandemic. But the entrepreneur corrects that the mall location has actually re-opened. When Kevin asks how much that location is losing, the entrepreneur states that it's in the neighborhood of $8,000 per month.
Lori says that she loves the entrepreneurs and, if she had to place a bet, would bet that they would make it but she says that she's previously invested in an oatmeal breakfast bar and that she sees this as a conflict of interest.[1]
Robert says that what Cereal Killerz is trying to do is hard, both creating a retail location and also a brand at the same time. He says that he thinks they can do it but that he isn't sure he has the stomach to go along for the ride and is out.
Mr. Wonderful get straight to the point and says that the entrepreneurs haven't proven their concept yet, so it out.
The last two sharks in the tank are Daymond and Mark and it becomes pretty clear, pretty fast who they'd really like to make a deal with when the husband pulls out an old FUBU jersey of his and puts it on. Daymond admits that's he's emotionally tied to the deal and the entrepreneurs say that cereal is one of the "easiest" markets.
Mark then says that he loves cereal and that when daddy "cooks" in his house, it means it's cereal night. But he also says that the entrepreneurs are operating under the fallacy that, as they grow the number of stores they have, costs will come down but that it doesn't work like that. He's also not wild about the fact that they're burning their nest egg as they search to find what works and, therefore, is out. But he also begs the entrepreneurs to consult with a financial adviser or a money manager to make sure they hold onto their savings.
Lastly, it's Daymond and he says that he thinks Cereal Killerz is a great company for the entrepreneurs but that it's not investable for him[2] and is, unfortunately, out. The husband pulls off his FUBU jersey and your Stats Shark would put real money on the idea that flame will touch that shirt when he gets home.... just say'n...
Scroll chart to see it all!
Scroll chart to see it all!
Notes