Spark Charge
Spark Charge is a company from Somerville, MA, that has created a fast and portable charging solution for electric vehicles. This product, at least initially, is aimed at road side service companies to bring along with them in case an electric vehicle... runs out of steam...? (Doesn't seem right... or maybe it's the wrong era...?)
"The Roadie" is a set of modules that can be stacked together to meet the needs of the vehicle it'll be charging and is leased out to road side servicers. The idea, they entrepreneurs say, is to reduce "range anxiety" by electric vehicle users because there will always be a charge near-ish. Additionally, it can charge... quickly? The entrepreneurs state that it can charge the equivalent of one mile every sixty seconds.
Before the entrepreneurs can get any further, Daymond says that he doesn't know anything about it and drops out before the pitch is even done.
The business model that Spark Charge uses is to lease out The Roadie to road side servicing businesses at a $150 per module per month fee plus a non-refundable deposit of $1,000. In the last six months, this has resulted in $500,000 of income and they project doing $1,000,000 by the end of the year.
Not that you can generally trust these things but they also project Spark Charge doing as much as $10,000,000 in the next year.
The Roadie is manufactured in Buffalo, NY, for $2,500 per unit. It takes twelve months of a lease in order to recoup the cost. Naturally, the Roadie is patented. The company is also developing a consumer product that should retail for $1,500.
Spark Charge has raised $3,000,000 in prior investment from VC and has been funded another $2,000,000 in grants and awards. The entrepreneurs state that they maintain control of "a little over" 50% of the business. They are in the tank looking for an investment to get the money to help keep up with demand, which makes sense after they state that, so far, they've lost $4,000,000.
Making A Deal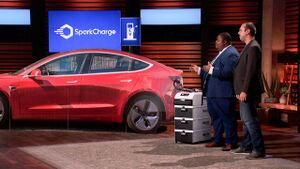 Mark is quick to jump onto Spark Charge's losses. Kevin then wants to know how much of the capital has been spent on inventory and the entrepreneurs report that it is about 1/3rd. Kevin then pushes them to answer why they aren't just selling the Roadie. The entrepreneurs respond that, through leasing, Spark Charge can maintain control of the unit and that they can repurpose the batteries as they expire.
Kevin hates the idea of leasing, isn't afraid to tell the entrepreneurs so, and drops out of the deal. New guest shark Blake Mycoskie says that he doesn't think Spark Charge will be able to meet the $1,500 price point for the consumer product and is out.
Lori says that she trusts Mark because of his experience in technology and asks whether he's interested. Mark says that he is but that the problem is that it's capital intensive and that Spark Charge will have to either raise more money through investment and dilute the ownership or take out debt in order to maintain control. The entrepreneur then says that they project profitability by the following year.
Mark then says that 6% is no where near enough equity for two sharks. So he asks the entrepreneurs to negotiate against themselves and make them a better offer. The entrepreneurs come back with a $1,000,000 investment for 10% in normal equity, an additional 2% in advisory shares and a board seat. Mark then says that he wants 2% in advisory shares each which the entrepreneurs, seemingly reluctantly go along with.
There is a limited number of companies that have come into the tank asking for $1,000,000 and walking out with a deal. Spark Charge can now take it's place among them even though it resulted in a huge $6,666,667 bite off of their valuation. (Which could have been worse except for the fact that Stats For Sharks does not price advisory shares into the valuation...) Still, it's a great thing to see!
Scroll chart to see it all!
Scroll chart to see it all!