BootayBag
BootayBag is a subscription box company from San Francisco, CA, that wants to help make one of the more awkward shopping experiences easier for women: shopping for underwear.
The entrepreneur behind BootayBag hated going to the mall, dealing with sales clerks, sorting through bargain bins, all just to find some new underwear and had a thought. "There must be a better way!" Why not create an affordable, comfortable, and convenient way to get ladies what they need? Women can log onto BootayBag and select the size, style, and quantity of panties they want and they will be shipped out each month in a discreet brown envelope.
Subscribers to BootayBag can select between one and four pair of underwear to be shipped to them a month. A single pair costs $10, two pair costs $15 and all four is just $20 per month.
The business began when the entrepreneur borrowed $300 in 2016 to build the initial website and purchase remainder underwear out of the bargain bin. The entrepreneur said that she was inspired both by her own parents who were entrepreneurs and new guest shark Kendra Scott who she saw speak on a panel. As the business grew, the entrepreneur began order bulk underwear under a private label. Since then, she has gone on to create her own line.
The business has made $15,000,000 in sales in its lifetime and $3,000,000 in the year to date. BootayBag has never had any fundraising and is debt free.
Making A Deal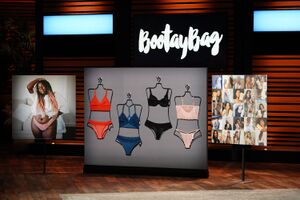 Needless to say, with revenues like BootayBag's, the sharks were circling. Kevin told the entrepreneur, the reason for all the excitement is that subscription services like hers often require a lot of start up capital and, often, debt to get started. He asks why she's in the Shark Tank.
The entrepreneur explains that she's currently making her orders through a broker and that she'd like help to cut out the middleman. This will not be the last the sharks hear about her manufacturing difficulties. Currently, BootayBag has manufacturing lead times of eight to nine months. Also, because the business is relatively so small, she finds herself at the mercy of the factory that has often forced her to accept imperfect and defective product.
The entrepreneur also admits that BootayBag's margins aren't what they should be and the sharks note that, with the margins that she has, she's essentially a retail front for the factory.
Guest shark Kendra professes her love for the entrepreneur and says that she wishes she'd brought in an investor to help before going as long as ten years and promised to help the entrepreneur avoid the same mistakes. So she offers "Kendra Kash/Cash(?)": $500,000 in exchange for 10% equity in the business which is double what the entrepreneur originally offered but perfectly in line with a Shark Tank offer.
But Barbara says she can help the entrepreneur with the two problems she's having: lack of money and a lack of understanding how to manufacture in Asia. As proof of her ability, she cites Grace & Lace[1] as a deal she made that helped educate her as far as manufacturing went.
Not to be left out, Mr. Wonderful throws his hat into the ring, stating that he knows exactly where to recoup the margins and that he knows how to manufacture in Vietnam. This must have come from Rounderbum[2] because that's the deal he cites as having been a good learning experience for him. He then offers $500,000 for 15% equity.
Both Mark and Lori drop out of the deal citing the strong offers the other sharks have made.
For half a second, Kendra and Barbara team up and offer the entrepreneur two sharks but for 20% of the business. When the entrepreneur attempts to get them to raise their cash offer to $700,000 in exchange for more equity, the sharks say no.
Kendra then begins to put the screws to the entrepreneur, pressing her on the value of two sharks but the entrepreneur, to her credit, holds firm and looks to be close to going out when Kendra drops Barbara like a hot potato and returns to her original offer, alone. The entrepreneur jumps on it.
Because Kendra took double the amount of equity that had been originally offered, this bites the value neatly in half to $5,000,000 from the original $10,000,000.
Of note is that, as of this deal, Kendra Scott is currently tied for the record for the most money invested in her first deal! Other guest sharks have invested $500,000 or more but only Kendra and Daniel Lubetzky from Season Eleven have done that in the first deal they made.
Scroll chart to see it all!
Scroll chart to see it all!
Notes