Go Oats
Go Oats, from Falls Church, VA, is a new and convenient way to eat a healthy breakfast in the morning. After all, isn't the problem with the "most important meal of the day" that, if you make eggs, you create a lot of dishes and, if you make oat meal, it's just impossible to eat on the go?
Concerns we all have, from time to time?
Well, worry no longer because this entrepreneur has created Go Oats, an easy way to take oat meal on the go because... it's in ball form! That's right, now someone can eat their oat meal like they're chicken McNuggets!
Go Oats can be made in the microwave or in the toaster oven. In an oven takes between ten and fifteen minutes to take it from frozen to ready to eat while the microwave version takes between thirty and sixty seconds. The entrepreneur shows a neat little cardboard box that the Go Oats can be heated up in but, currently, the only option to buy is the microwave version in a pouch. The box sales are "set up" though.
Despite Go Oats containing milk, sugar, and butter on top of the oat meal, they clock in at just 170 calories per ball.
One pouch of Go Oats costs $1.35 to manufacture, $2.66 at wholesale, and retail for $4.99. In the first year of sales in 2017, Go Oats sold $13,000. In 2018, Go Oats sold $57,000 but in the year that followed, the entrepreneur admitted that sales were "pretty much flat" and were between $54,000 and $57,000.
The entrepreneur had been the executive chef at a Hyatt Regency but, because of the COVID-19 pandemic, had been laid off in March. He was keeping his spirits up though by seeing it as a blessing that allows him to focus on Go Oats full time.
Currently, the product is in Whole Foods and the entrepreneur claims that it is selling through.
Making A Deal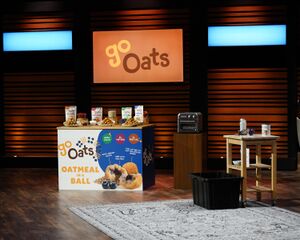 None of the sharks were pleased with the margins on a pouch of Go Oats. But Barbara takes a flyer on it and says that she'll help get the product into the big box stores where there are stocking fees and a real maze of new hoops to jump through. But, in order to get her help, he would need to give up 25% of equity in Go Oats for the $150,000.
The entrepreneur tries to charm Barbara and asks who her favourite other shark on the panel is. She says she doesn't much like Kevin but digs on Mark because he's a billionaire. The entrepreneur then says that for the amount of equity she's asking for, he would really like to have two sharks. But that is something Barbara's not interested in because she claims it's too hard to get other sharks on the phone when a decision has to be made.
So the entrepreneur tries to talk Barbara down to 15%. But she asks to "compromise" at 20%. And the entrepreneur agrees.
Barbara is one shark who gets what she asks for. And by taking double what was originally on offer, she effectively bit the valuation in half to just $750,000.
Scroll chart to see it all!
Scroll chart to see it all!